Skip to Content
About CCA Floors & Interiors
CCA Floors & Interiors is one of the largest flooring dealers in the Northern Virginia, Maryland and Washington, D.C. area. Over the past four decades, we have served corporate, education, healthcare, hospitality, government, and residential customers here in D.C. and around the world. From individual homeowners to large facility managers to federal government procurement officers, our client's value CCA Floors & Interiors because of our consistent level of professionalism and dedication to service throughout all aspects of their project.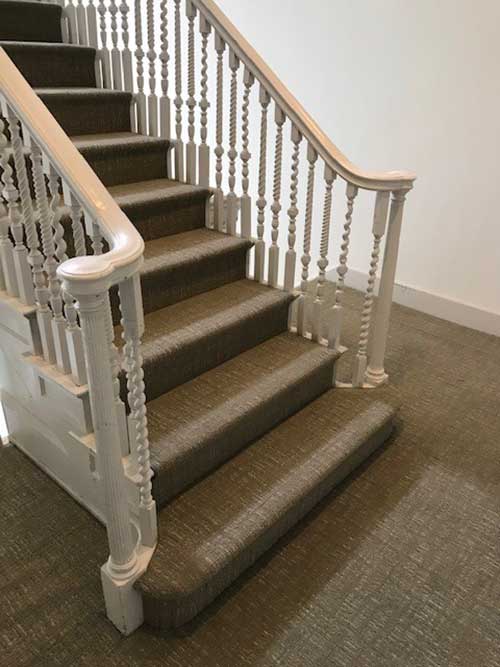 Customer Service Is Our Top Priority
Over the past four decades, we have developed a reputation for making even the most challenging projects run smoothly. Making customer service our top priority enables us to work directly with facility managers, property managers, building owners, general contractors, architects and designers on everything from individual offices to entire occupied buildings. Through our commitment to training, education and our membership in various industry associations, we have the tools and expertise to handle even the most difficult installations efficiently.
Most commercial flooring contractors have access to the same products from the same group of manufacturers. What sets one apart from the other is the service that surrounds those products. CCA Commercial Floors & Interiors surrounds our selection of innovative flooring products, with creative solutions and a level of professional service that is the envy of the industry.
Greenality
CCA's Commercial Sales Division believes it is our commitment and responsibility to our local community, customers, suppliers, and employees to implement the innovative and responsible environmental procedure. We call this commitment "Greenality" and it includes
Recycling ALL materials that leave our facility
Buying green products
Selling green products
Recognizing and rewarding employees who buy environmentally friendly products and act responsibly toward our environment
Green Office Practices
CCA Floors & Interiors GREEN Committee, established in 2009, has converted the offices to using eco-friendly cleaning products and recycled paper materials as well as installed energy efficient compact fluorescent light bulbs and a new energy efficient refrigerator. The committee recently completed an energy audit and is in the process of implementing its recommendations, including the installation of dual flush toilets and motion sensing lighting.
Green Products and Leed Compliance
We also offer recycled and environmentally friendly flooring products that are an essential part of a building's qualification as LEED compliant. CCA's Commercial Sales Division maintains vendor relationships with several manufacturers that produce some of the greenest floor coverings available, including Patcraft ECOworx-backed carpet tile and Forbo Marmoleum linoleum. All of our sales representatives are U.S. Green Building Council-trained, and we are able to provide an Environmental Impact Statement to customers to show the positive impact of recycling or diverting a certain amount of carpet. As a commitment to doing greener business, CCA's Commercial Sales Division has four LEED AP-certified employees on staff.
CCA's Division
Founded in 1973 by Daryl Reinke as a cash-and-carry retail operation specializing in carpet remnants, CCA has experienced phenomenal growth in the decades since and now features four separate divisions:
CCA's Commercial Sales Division successfully serves commercial private sector businesses, insurance companies, and large property management companies in the Virginia, Maryland and Washington, D.C. markets.
CCA's Government Sales Division holds multiple Federal, State and municipal contracts and is a recognized leader in delivering service and value to government clientele in facilities worldwide.
Alexandria Carpet One Floor & Home is our residential division, an independently owned Carpet One franchise with a retail showroom in Alexandria, Virginia.
Across all divisions, CCA Floors & Interiors believes in the value of offering innovative products, providing creative solutions and, above all, making customer service our highest priority.
Revamp Your Flooring Surfaces Today!