Skip to Content
High-Performance, Durable Commercial Carpet
We got our start selling high-quality carpeting to commercial business owners, and we're still doing so after more than 40 years in business. We understand that our clients are searching for a solution to their flooring problems that allows them to focus on more pressing issues. That's why we commit not only to quick and efficient carpet installation but also to selling durable, high-performance carpeting. We trust the mills we work with, and we want you to as well. We also place a premium on delivering plenty of alternatives to our customers. We pride ourselves on our ability to adapt our approach to your needs. If your business or government building needs new commercial carpet in Alexandria, VA, place your trust in CCA Commercial Floors & Interiors.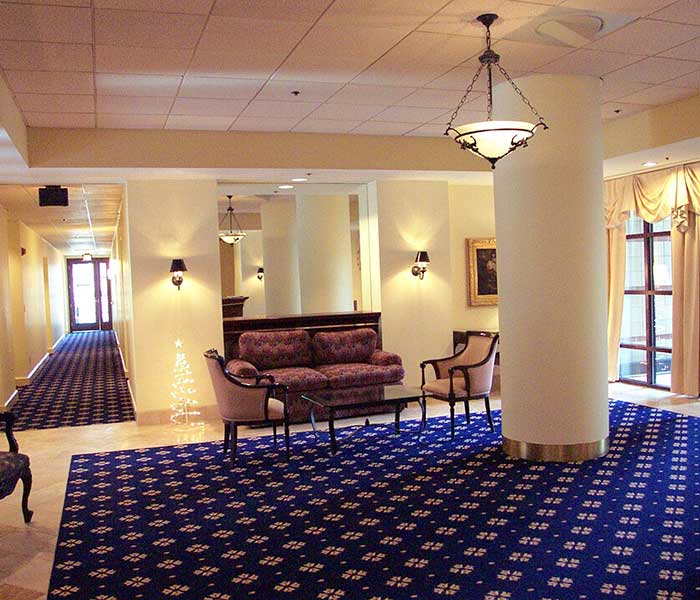 We Offer an Array of Carpet Styles and Options
We sell a large selection of carpet options, including:
Broadloom
Broadloom carpet presents unique challenges to our installers that we are excited to solve. For instance, it comes in long rolls that are manufacturer-standardized width and length. As a result, it can be a tricky installation if the room is smaller or bigger than the roll of carpet. Fortunately, we can seam two rolls together or cut the carpet to make it fit the room. We do so with absolute precision.
Modular
Modular carpeting is very popular among our clients. Modular carpet allows you to switch carpet panels that are stained by coffee or spilled lunches without replacing the entire carpet. They're also more comfortable to transport, allowing you to move the carpeting from one office location to the next. Additionally, you can combine two or three different tile patterns for a textured look.
Eco-Friendly
There are benefits to converting to an eco-friendly office. For instance, switching to environmentally-friendly carpeting might entitle you to government-sponsored benefits. Our company is committed to becoming sustainable and environmentally-friendly. We can help you do so as well.
We Pride Ourselves on Providing a Wealth of Options
In addition to providing several options for carpet installation, our catalog includes a wide array of patterns and colors. Personalize your building's flooring however you want. During your free consultation, a member of our team walks you through your options. Call CCA Commercial Floors & Interiors today.
Revamp Your Flooring Surfaces Today!