Skip to Content
Ceramic and Stone Floors in Alexandria, VA
For Alexandria, VA commercial property owners, ceramic and stone floors are an excellent option for a variety of spaces in their building. Both surfaces are versatile and provide numerous aesthetic and practical benefits. Ceramic and stone floor tiles make a statement in your building. Government buildings, hotel lobbies, and others benefit from the high-design, low-maintenance flooring option. We install ceramic tile, marble, quartz tile, and others.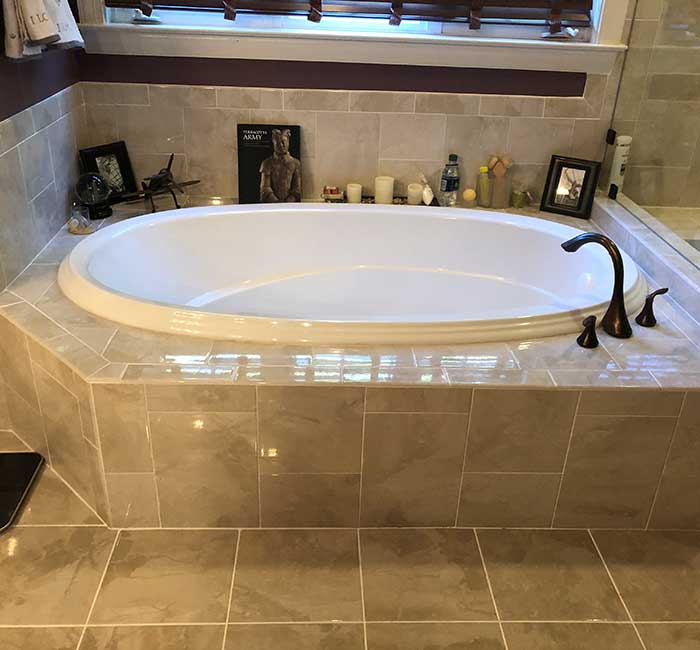 Five Benefits of Stone and Ceramic Floors
Beyond the stunning aesthetic appeal of ceramic and stone floors, they offer practical benefits. Regardless of your plans for your building's ceramic or stone floors, these five benefits enhance the advantages of the flooring materials:
They Are Easy to Maintain
Be sure to place doormats at every entrance to prevent contaminants from finding their way into the building. The mats will keep most of the dust, allergens, and dander out. From there, you'll have to make sure the floors are swept daily by your cleaning crew and ensure spills are cleaned with manufacturer-approved chemicals.
Both Ceramic and Stone Floors Are Environmentally-Friendly
CCA Commercial Floors & Interiors places a premium on protecting the environment. We use recyclable materials and are in the process of converting aspects of our facility to more environmentally-conscious alternatives. That's why we love ceramic and stone so much. Both materials are easily recycled.
Ceramic and Stone Floors Are Hygienic and Allergy-Resistant
Make life easier for your employees and guests by installing ceramic and stone floors in the lobby and hallways in your building. Allergens don't get trapped in them the way they do on other surfaces. If your building requires sanitized conditions – like a hospital or restaurant – then a stone or ceramic floor is perfect, as they are easy to clean.
These Flooring Options Provide Enhanced Fire Protection
Not only will the ceramic and stone floors not burn during a fire, but they are also resistant to everyday heat-related wear-and-tear, like kitchen skillets and pans. As a business owner, you have a responsibility to guarantee the safety of your employees and customers while on the premises. Stone and ceramic tiles provide added security.
They're Scratch-Resistant
Perhaps the most essential component many of our clients have to consider is how durable, and long-lasting, their new floors will be. After all, an investment in new ceramic and stone floors is a huge one. One nice thing about stone and ceramic floors are they are resistant to scratches.
Contact Us Today for a Free Business Consultation
CCA Commercial Floors & Interiors is proud of our reputation for delivering superior customer service and flooring products to our clients in Northern Virginia, Maryland, and the Washington, DC-area. To see how stone and ceramic floors can brighten your doorstep, call today. We offer free consultations.
Revamp Your Flooring Surfaces Today!